Maxim公司的MAX22203是集成电流检测的65V 3.8A两路有刷马达和单个步进马达驱动器,具有PWM输入和精确的电流驱动调节(CDR).每个H桥可单独地控制,有非常低的RON(高边+低边)0.3Ω(TA = 25C),导致了高驱动效率和产生低热量.MAX22203可用来驱动两个有刷DC马达或单个步进马达.器件具有过流保护(OCP),热关断(TSD)和欠压锁住(UVLO).开路漏极作用低nFAULT引脚,每次起作用时用作故障条件检测.在热关断和欠压锁住时,驱动器处与三态直到正常工作条件恢复.两个H桥具有65V最大工作电压.器件采用TQFN38 5mm x 7mm封装.主要用在有刷DC马达驱动,步进马达驱动,螺线管驱动器以及锁紧阀.本文介绍了MAX22203主要优势和特性,简化框图和应用框图以及评估板MAX22203 EVK主要特性,电路图,材料清单和PCB设计图.
The MAX22203 is a dual 65V, 3.8AMAX H-Bridge withPWM inputs and accurate Current Drive Regulation(CDR). Each H-Bridge can be controlled individually andhas a very low typical RON (high-side + low-side) of 0.3Ω,resulting in high driving efficiency and low heat generation.
The MAX22203 can be used to drive two Brushed DC motorsor a single Stepper Motor.
The integrated CDR can limit the start up or stall the currentof a Brushed DC motor or control the phase currentfor stepper operation.
The bridge output current is sensed by a non-dissipativeIntegrated Current Sensing (ICS) eliminating the bulky externalpower resistors (which are normally required for thisfunction) and compared with a configurable threshold current(ITRIP). The ITRIP threshold can be set independentlyfor the two full bridges by connecting the external resistorsto pins REFA and REFB .
The maximum output current per H-Bridge is IMAX = 3.8Aand is limited by the Overcurrent Protection (OCP) circuit.This current can be driven for very short transients andis aimed to effectively drive small capacitive loads. Themaximum user-configurable current regulation threshold isITRIP_MAX = 3A. The maximum RMS current (IRMS) per
H-Bridge is 2ARMS on a standard JEDEC 4-layer board.
The maximum RMS current can be limited by thermal considerationsand depends on the thermal characteristic ofthe application (PCB ground planes, heat sinks, forced airventilation, etc).
The MAX22203 features Overcurrent Protection (OCP),Thermal Shutdown (TSD), and Undervoltage Lockout(UVLO). An open-drain active low nFAULT pin is activatedevery time a fault condition is detected. During ThermalShutdown and Undervoltage Lockout, the driver is tristateduntil normal operations are restored.
The MAX22203 is packaged into a small TQFN38 5mm x7mm package.
MAX22203主要优势和特性:
● Two H-Bridges with 65V Maximum Operating Voltage
• Total RON (High-Side + Low-Side): 300mΩ typical(TA = 25C)
● Current Ratings Per H-Bridge (Typical at 25C):
• IMAX = 3.8A (Impulsive Current for DrivingCapacitive Loads)
• ITRIP_MAX = 3A (Maximum Current Setting forInternal Current Drive Regulation)
• IRMS = 2ARMS
● Integrated Current Drive Regulation (CDR)
• Internal Current Sensing (ICS) Eliminates ExternalBulky Resistors and Improves Efficiency
• Current Drive Regulation Monitor Output Pins(CDRA and CDRB)
• Multiple Decay Modes (Slow, Mixed, Fast)
• Fixed Off Time Configurable with ExternalResistance.
● Current-Sense Output (Current Monitor)
● Fault Indicator Pin (FAULT)
● Protections
• Overcurrent Protection for Each Individual Channel(OCP)
• Undervoltage Lockout (UVLO)
• Thermal Shutdown (TSD) TJ = +165C
● TQFN38 5mm x 7mm package (TSSOP38 4.4mm x9.7mm available in the future)
MAX22203应用:
● Brushed DC Motor Driver
● Stepper Motor Driver
● Solenoid Driver
● Latched Valves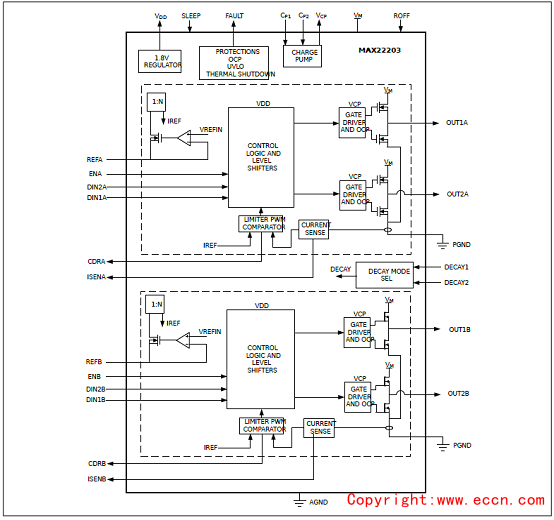 图1.MAX22203简化框图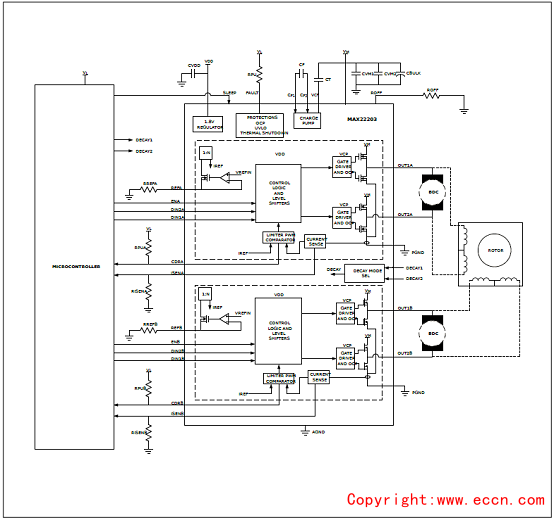 图2.MAX22203应用框图
评估板MAX22203 EVK
The MAX22203 evaluation kit (EV kit) provides a proven design to evaluate the +65V, 3.8A Dual H-Bridge MAX22203 motor driver. The MAX22203 can drive two brushed DC motors or single stepper motor. The MAX22203 IC integrates very low impedance FETs in a dual H-Bridge configuration with a typical RON (high side + low side) of 0.3Ω. The EV kit features headers, test points, and termi­nal blocks to provide an interface to the MAX22203 motor driver. The MAX22203 integrated current-sense output ISENA and ISENB can be monitored using test points or can be connected to an external ADC using header J4. The MAX22203 features embedded current-drive regula­tion (CDR) with adjustable chopping current (ITRIP) and adjustable current-limit off-time (tOFF). The MAX22203 EV kit operates from an input voltage of +4.5V to +65V (VM). An on board +3.3V regulator U2 (MAX6765TTSD2+) provides a regulated +3.3V to drive the MAX22203 logic inputs. Terminal blocks J1 and J6 are installed to provide an interface for the high voltage, high current VM inputs and motor driver outputs OUT1_ and OUT2_
评估板MAX22203 EVK主要特性:
Easy Evaluation of the MAX22203
Adjustable tOFFTime Using an On-Board Potentiometer
Configurable Current Drive Regulation (CDR)
On-board +3.3V Regulator to Drive MAX22203 Logic Inputs
Test Points and Headers to Interface with MAX22203 Logic Inputs and Current-Sense Outputs
Fully Assembled and Tested
Proven PCB Layout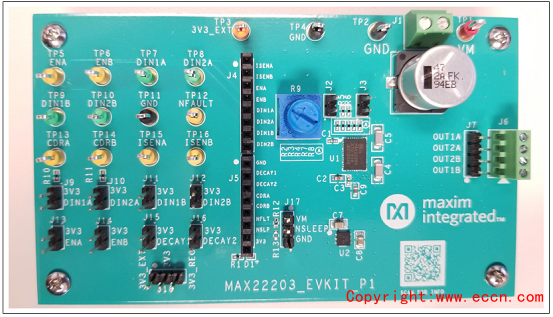 图3.评估板MAX22203 EVK外形图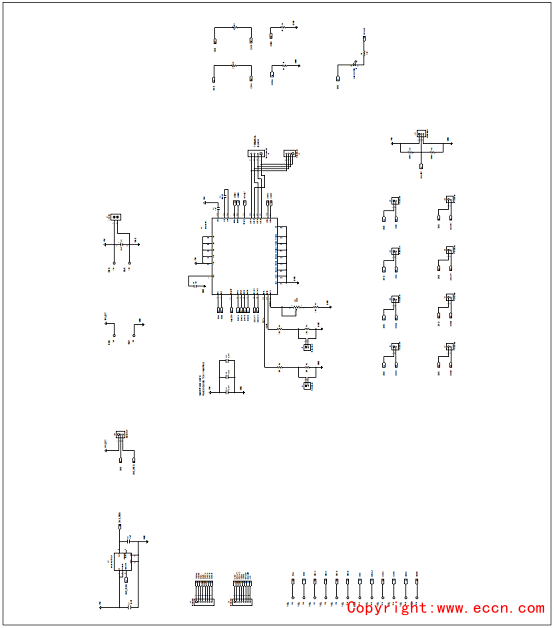 图4.评估板MAX22203 EVK电路图
评估板MAX22203 EVK材料清单: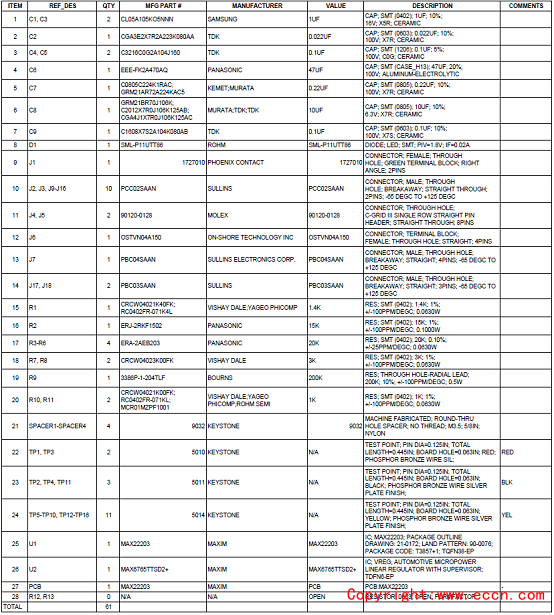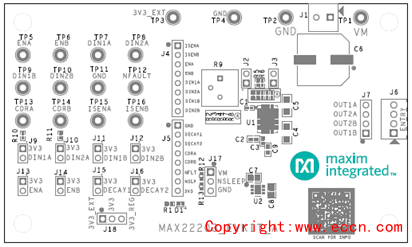 图5.评估板MAX22203 EVK PCB设计图:顶层丝印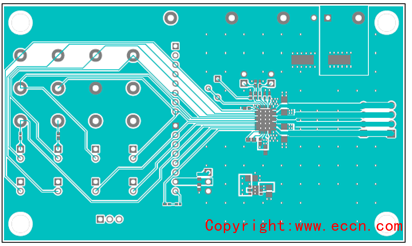 图6.评估板MAX22203 EVK PCB设计图:顶层
图7.评估板MAX22203 EVK PCB设计图:层2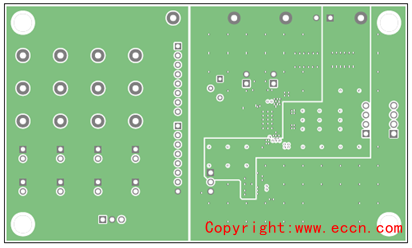 图8.评估板MAX22203 EVK PCB设计图:层3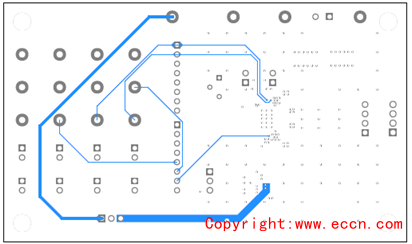 图9.评估板MAX22203 EVK PCB设计图:底层