ST公司的L99SM81V是汽车级的综合驱动器,用于双极两相步进马达,该马达具有可编幅度的电流控制微步进功能.器件具有5V电压稳压器以便给外接传感器供电.L99SM81V集成的串行外设接口(SPI)使得可调整器件参数,控制所有的工作模式和读出诊断信息.数字I/O也可选择以用于更灵活和更可靠的应用控制.器件满足AEC-Q100资质,步进马达驱动器电流高达1.35A,可编程的步进模式包括全步进,半步进,迷你步进,1/8微步进,1/16微步进.电流调整回路有等效的10位分辨率.器件具有两个4位可编满刻度电流放大:一个用于RUN,另一个用于HOLD模式.6为DAC用于基准电流产生.PWM频率摇摆可降低EM能量.器件具有输出保护和诊断(开路负载,对电池短路和对地短路),集成的ADC用于线圈电压检测和失速检测,5V低压降稳压器用于短路保护,待机模式具有非常低的电流消耗(典型值为10 μA).热告警和关断功能.主要用在汽车电子的双极2相步进马达驱动器如自适应前灯系统或平视显示器投映仪.本文介绍了L99SM81V主要特性,框图,步进马达驱动器应用框图和评估板AEK-MOT-SM81M1主要特性,步进马达应用框图,电路图,材料清单.
The L99SM81V is an automotive grade integrated driver for bipolar two-phase stepper motors capable of current controlled micro-stepping with programmable amplitude. The device features a 5 V voltage regulator to supply external sensors.
The integrated Serial Peripheral Interface (SPI) makes it possible to adjust device parameters, control all operating modes and read out diagnostic information. Digital I/Os are also optionally usable for more flexible and reliable application control.
L99SM81V主要特性:
· AEC-Q100 qualified
· Stepper motor driver with up to 1.35 A current capability
· Programmable Step mode:
- Full step, Half step, Mini step, 1/8 Micro step, 1/16 Micro step
· Current regulation by integrated PWM control with fully integrated current sensing
· Equivalent 10 bit resolution on current regulation loop:
- Two 4-bit programmable full scale current amplitudes: one for RUN and one for HOLD mode
- 6-bit DAC for reference current generation (whatever programmed full scale amplitude)
· 4 programmable decay modes:
- Slow-mode, mixed-mode and 2x automatically selected decay-modes
· 3x programmable inputs for direct control of step clock, direction, hold and step modes
· 1x programmable analog output for Tj measurement or band-gap reference
· 2x programmable digital outputs for internally generated PWM ON duty cycles,error signals, coils voltage measurement synchronization signals
· Programmable MOSFETs switching speed: four options for EMC and power dissipation trade-off optimization
· PWM frequency wobbling for reduction of conducted EM energy
· Outputs protection and diagnosis (open load, short to battery, short to GND)
· Integrated ADC for coil voltage measurement and stall detection
· 5 V low drop voltage regulator short-circuit protected
· Very low current consumption in standby mode (typ. 10 μA)
· Thermal warning and shutdown
· ST SPI 4.1 interface for control and diagnostics
L99SM81V应用:
Bipolar 2 phase stepper motor driver for automotive applications like adaptive front light systems or projectors for head-up displaying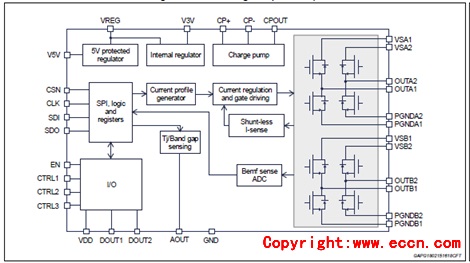 图1.L99SM81V框图(QFN40L)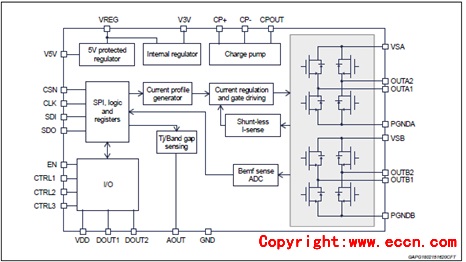 图2.L99SM81V框图(PowerSSO-36)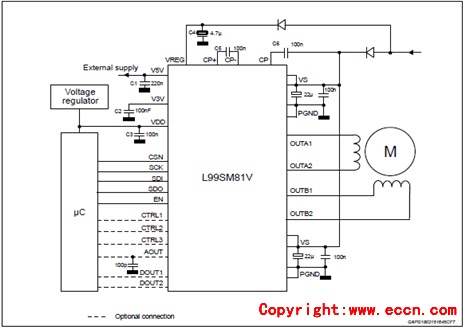 图3.L99SM81V步进马达驱动器应用框图
评估板AEK-MOT-SM81M1
The AEK-MOT-SM81M1 evaluation board is designed to drive a bipolar stepper
motor in micro-stepping mode, with coil voltage monitoring for stall detection.
This application board features the automotive-grade L99SM81V stepper motordriver with embedded power MOSFETs and a comprehensive set of I/Os for MCUcontrol and feedback signaling using SPI communication through a 12-pin maleconnector or two 5-pin connectors on the board.
The board is developed as part of the AutoDevKit initiative, and evaluation firmwareis available for suitable microcontrollers such as the automotive-grade SPC5 seriesMCU on the AEK-MCU-C4MLIT1 control board.
The AEK-MOT-SM81M1 board targets automotive applications such as adaptive front lighting systems and HUDprojectors, with stepping resolution ranging from 4 full steps to 64 micro steps for the finest possible positionalcontrol.
The L99SM81V driver logically manages timers, counters, reference tables and mode or status registers that areread or set by the external microcontroller to drive the two coil phases of a bipolar stepper motor, with separateRUN and HOLD profiles for moving the rotor or keeping it stationary.
Apart from supply voltage and driver current diagnostics, the driver also monitors the output voltages across thephase terminals in order to detect and flag critical motor stall events that can compromise motor operation andcontrol.
评估板AEK-MOT-SM81M1主要特性:
• Board functionality based on L99SM81V programmable stepper motor driver forautomotive applications:
–with micro-stepping and hold functions
– BEMF monitoring for stall detection
–programmable configuration via SPI
– 5 V internal linear voltage regulator (output available on board connector)
• Board reverse battery protection with STD95N4F3 MOSFET, which can besubstituted with two optionally mounted diodes and a jumper
• Input operating voltage range from 6 V to 28 V
• Output current up to 1.35 A
• Board size: 65 mm length x 81 mm width x 11 mm maximum component height
• WEEE and RoHS compliant
• All ST components are qualified Automotive grade
• Part of the AutoDevKit™ initiative
• Applications: automotive bipolar stepper motor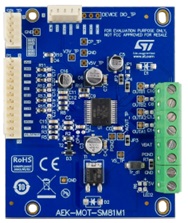 图4.评估板AEK-MOT-SM81M1外形图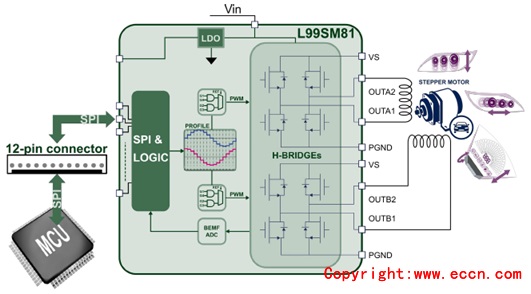 图5.汽车步进马达应用框图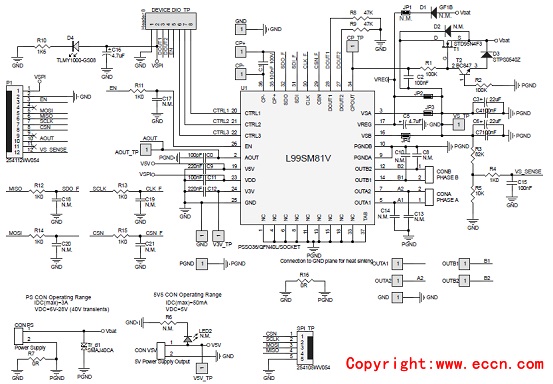 图6.评估板AEK-MOT-SM81M1电路图
评估板AEK-MOT-SM81M1材料清单: