TI公司的LM604x0系列是3.8V-36V 3A和4A超小型同步降压DC/DC转换器.该器件容易使用,为工业应用提供业界最好的效率.LM60430提供多达3A负载电流,而LM60440则是业界最小的4A降压转换器.器件具有低EMI和开关噪音,满足CISPR22 class 5标准,开关频率400kHz和1MHz,输出电压从1V到24V,所有负载下的功率转换高效率,峰值效率大于95%,10-mA, 12 VIN, 5 VOUT时的PFM效率为90%.工作结温–40C 到 +150C.工作静态电流25 μA.主要用在工业PC和CPU(PLC控制器),伺服驱动和AC驱动控制模块和医疗与仪表应用.本文介绍了LM604x0系列主要特性,功能框图,应用电路以及评估模块LM60440AQEVM主要特性,电路图,材料清单和PCB设计图.
The LM604x0 regulator is an easy-to-use,synchronous, step-down DC/DC converter that
delivers best-in-class efficiency for rugged industrialapplications. The LM60430 drives up to 3-A of loadcurrent, and the LM60440 is industrys smallest 4Astep-down converter.
The LM604x0 is available in an ultra-miniature WQFNpackage with wettable flanks and a standard QFNpin-out with a thermal pad to enhance thermalperformance. This enhanced QFN package featuresextremely small parasitic inductance and resistance,
enabling very high efficiency while minimizing switchnode ringing and dramatically reducing EMI.
The LM604x0 uses peak-current-mode control toautomatically fold back frequency at light load toensure exceptional efficiency across the entire loadrange. The low power dissipation paired with athermally optimized QFN package enables a powerdense solution size. In addition the device requiresfew external components and has a pinout designedfor simple PCB layout. The small solution size andfeature set of the LM604x0 are designed to simplifyimplementation for a wide range of end equipment.
This device is also available in an AEC-Q100-qualified version.
LM604x0系列主要特性:
1• Functional Safety-Capable
– Documentation available to aid functionalsafety system design
• Low EMI and switching noise
– Meets CISPR22 class 5 standard
– Enhanced QFN package minimizes parasiticinductance and switch node ringing
• Configured for rugged industrial applications
– Standard QFN footprint: single large thermalpad and all pins accessible from perimeter
– Pin compatible variants:
– LM60440 (36 V, 4 A)
– LM60430 (36 V, 3 A)
– Junction temperature range –40C to +150C
– Frequency: 400 kHz, 1 MHz
– Output voltage range: 1 V to 24 V
• High efficiency power conversion at all loads
– Peak efficiency > 95%
– 90% PFM efficiency at 10-mA, 12 VIN, 5 VOUT
– Low operating quiescent current of 25 μA
• Create a custom design using the LM60440 withthe WEBENCH® Power Designer
LM604x0系列应用:
• Industrial PC and CPU (PLC controller)
• Servo drive and AC drive control module
• Medical and instrumentation applications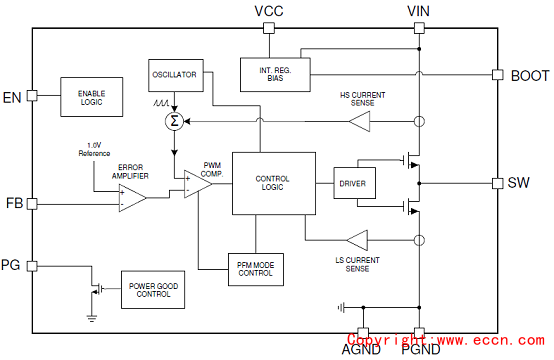 图1.LM604x0系列功能框图

图2. LM604x0系列应用案例图(400kHz)
评估模块LM60440AQEVM
The Texas Instruments LM60440AQEVM evaluation module helps designers evaluate the operation andperformance of the LM60440-Q1 wide-input buck converters. The LM60440-Q1 is an easy-to-usesynchronous step-down DC/DC converter capable of driving up to 4.0 A of load current from an inputvoltage of up to 36 V. The LM60440AQEVM features an adjustable output voltage of 5 V and a switchingfrequency of 400 kHz. See the LMR60440-Q1 3.8-V to 36-V, 4-A Synchronous Step-down Voltage
Converter Data Sheet data sheets for additional features, detailed descriptions, and available options.
图3.评估模块LM60440AQEVM外形图

图4.评估模块LM60440AQEVM电路图
评估模块LM60440AQEVM材料清单: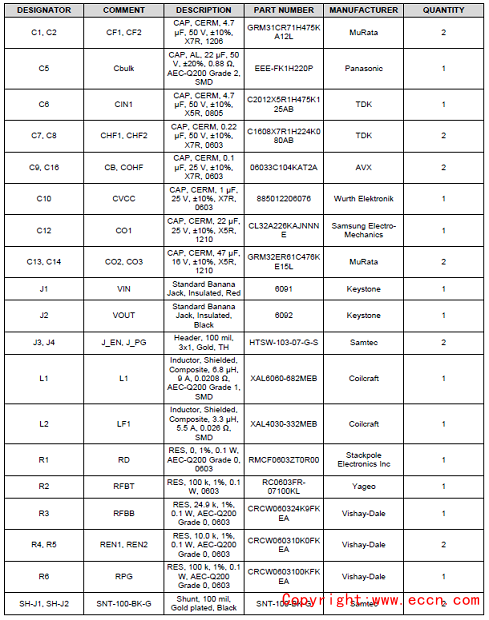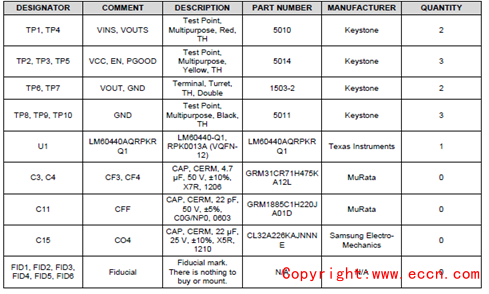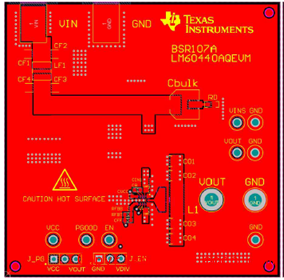 图5.评估模块LM60440AQEVM PCB设计图:顶层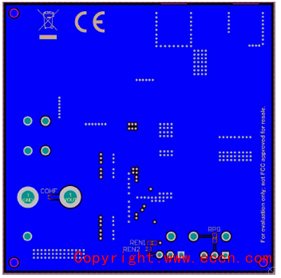 图6.评估模块LM60440AQEVM PCB设计图:底层
图7.评估模块LM60440AQEVM PCB设计图:顶层铜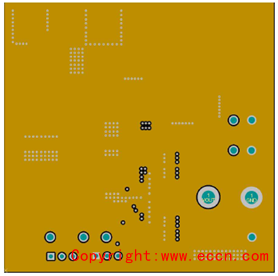 图8.评估模块LM60440AQEVM PCB设计图:中间层1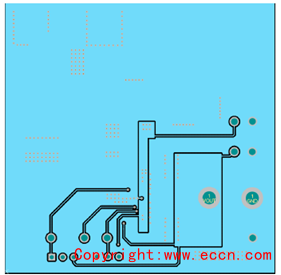 图9.评估模块LM60440AQEVM PCB设计图:中间层2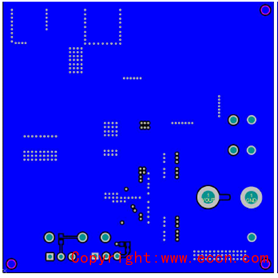 图10.评估模块LM60440AQEVM PCB设计图:底层铜