infineon公司的iMOTION™ IMC100系列是用于变速驱动控制的高度集成电路.器件集成了永磁同步马达(PMSM)控制所需要的硬件和软件,能以最低系统和开发成本使得任何的马达系统以最短时间走向市场.器件所集成的脚本引擎允许增加应用的灵活性而不用干扰马达和PFC控制的算法. IMC101提供单个马达控制,而IMC102除了控制马达有增加了增强或图腾柱功率因素修正(PFC).器件集成的运动控制引擎(MCE)是可变速度驱动的即用解决方案,控制矢量PWM具有正弦换流和集成的保护特性,通过单分流或腿分流进行电流检测,无传感器操作,可选择支持所有的霍尔传感器(模拟或数字),可选择增强或图腾柱PFC控制,灵活的主接口用于马达控制指令:UART,PWM或模拟输入信号,支持IEC/UL 60335 (Class B),有多种封装选择.主要用在电冰箱,家用电器,泵和风扇以及其它PMSM驱动.本文介绍了iMOTION™ IMC100系列主要特性,系统框图和系列框图,多种应用框图,以及24V低压马达驱动参考设计REF-Vacuum-C101-2ED主要特性,电路图,材料清单和PCB设计图.
iMOTION™ IMC100 is a family of highly integrated ICs for the control of variable speed drives. By integrating both the required hardware and software to perform control of a permanent magnet synchronous motor (PMSM) they provide the shortest time to market for any motor system at the lowest system and development cost. The integrated script engine allows to add application flexibility without interfering with the motor and PFC control algorithm.
iMOTION™ IMC100 is a series of highly integrated ICs for the control of a Permanent Magnet Synchronous Motor (PMSM). IMC101 devices provide control of a single motor while the IMC102 devices control the motor and additionally a boost or totem pole power factor correction (PFC).
The IMC100 series is based on Infineons Motion Control Engine (MCE) and integrate all hardware and software functions required to implement a closed loop sensorless or optionally sensor based control algorithm for permanent magnet motors. IMC100 devices do not require any software programming and can be configured for a wide range of motor control inverters.
The IMC100 series takes advantage of a new hardware platform that is based on a comprehensive set of innovative analog and motor control peripherals. The high level of integration both in terms of hardware modules and software algorithms results in a minimum number of external components required for the implementation of the inverter control.
Infineons patented and field proven Motion Control Engine (MCE) implements field oriented control (FOC) using single or leg shunt current feedback and uses space vector pulse width modulation (PWM) with sinusoidal signals to achieve highest energy efficiency. In addition to the motor control algorithm it also integrates multiple configurable protection features like over- and under-voltage, over current, rotor lock etc. to protect both the power stage as well as the motor during application tuning or in case of malfunction.
The second generation of the MCE further improves the performance of the sensorless control algorithm and adds functionality like optional sensor support for applications that require accurate rotor positioning, two types of ready-to-use PFC algorithms as well as more and flexible and faster host interface options.
The IMC100 series is offered in several device and package variants for applications from single motor control to motor control plus PFC. All devices can be used in applications requiring functional safety according to IEC 60335 (Class B).
There are multiple versions of the MCE software offered by Infineon and made available for download from the Infineon web site.
By using a special secure boot loader algorithm in combination with type specific chip IDs it is assured that these MCE software versions can only be installed onto the matching hardware derivatives, i.e. IMC100 variants for which the software has been tested and released for. Infineon as well as third parties provides tools to program these software images. For details please refer to the iMOTION™ programming manual.
The MCE integrates a script engine providing additional flexibility. The script engine can make use of analog and digital IOs for reading sensors or driving signals. The respective IOs are given in the pin lists referencing the name in the script to the physical pin of the package.
iMOTION™ IMC100系列主要特性:
• Motion Control Engine (MCE) as ready-to-use solution for variable speed drives
• Field oriented control (FOC) for permanent magnet synchronous motor (PMSM)
• Space vector PWM with sinusoidal commutation and integrated protection features
• Current sensing via single or leg shunt
• Sensorless operation
• Optional support for hall sensors (analog or digital)
• Optional boost or totem pole PFC control integrated
• Flexible host interface options for motor control commands: UART, PWM or analog input signal
• Support for IEC/UL 60335 (Class B)
• Integrated scripting engine for application flexibility
• Multiple package options
iMOTION™ IMC100系列应用:
• Refrigerators
• Home appliances
• Pumps, fans
• ...any other PMSM drive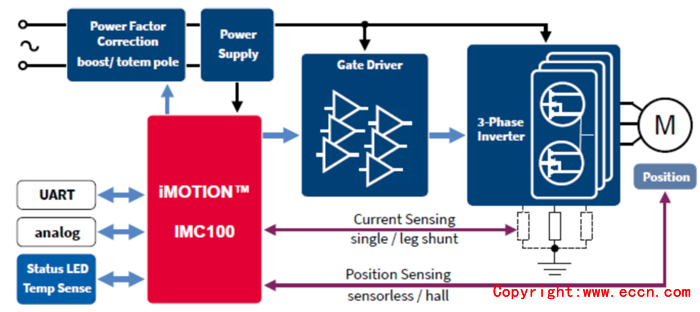 图1. iMOTION™ IMC100系列系统框图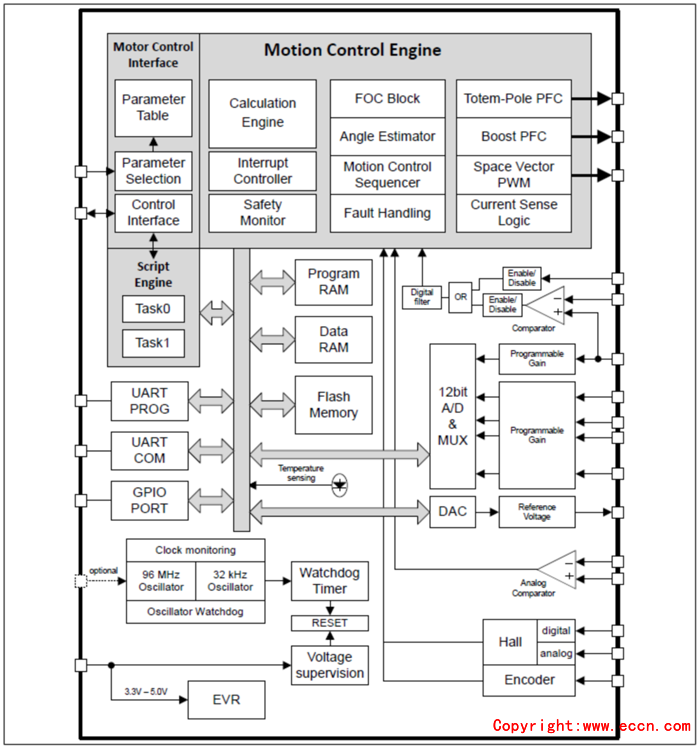 图2. iMOTION™ IMC100系列框图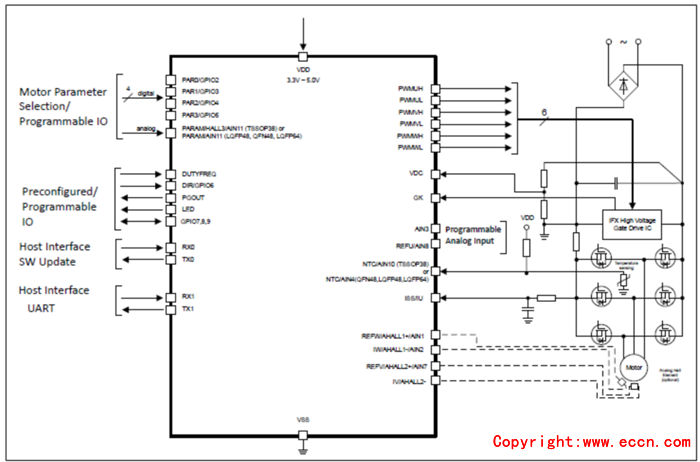 图3. IMC101单分流配置图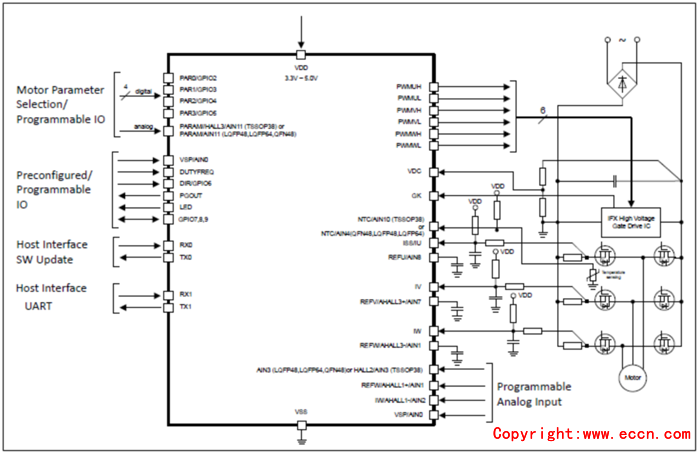 图4. IMC101腿分流配置图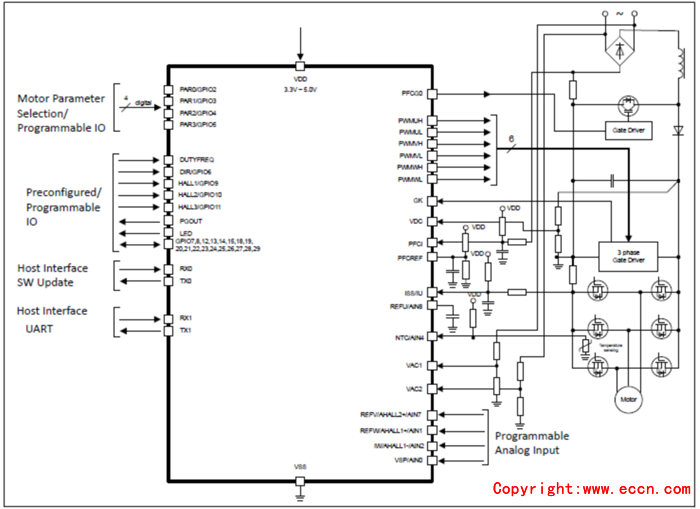 图5. IMC102带增强PFC控制的单分流配置图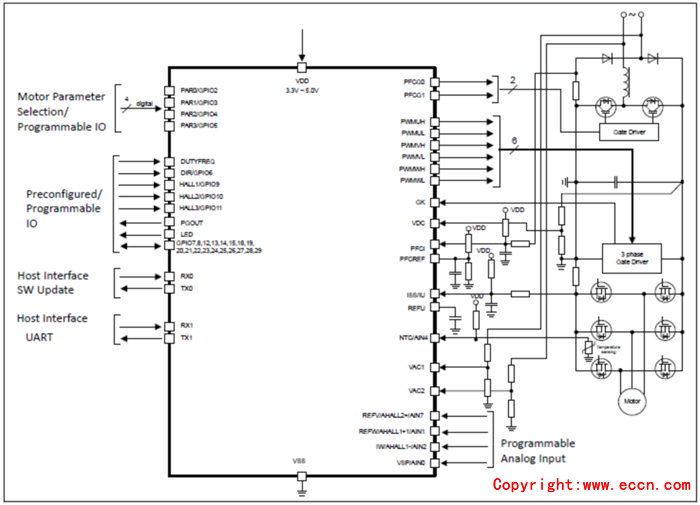 图6. IMC102带图腾柱PFC控制的单分流配置图
24V低压马达驱动参考设计REF-Vacuum-C101-2ED
The REF-Vacuum-C101-2ED is part of the iMOTION™ reference design kits. It is designed to provide ready-to-use, low-voltage and high-speed vacuum solutions based on Infineons thin-film SOI technology and advanced motion control engine (MCE 2.0) technology. It allows fast prototyping and fast time to market. The board is equipped with all assembly groups for sensorless field-oriented control (FOC), and reserved interface for three digital Hall sensors, so that it can be extended to other low-voltage and high-current motor applications.
The block diagram of the REF-Vacuum-C101-2ED is depicted in Figure 1, which contains iMOTION™ controller IMC101T, 3 mOhm 40 V OptiMOSTM, and 2ED2304S06F half-bridge gate driver with integrated bootstrap diode.
参考设计REF-Vacuum-C101-2ED包括:
- Gate driver IC for MOSFET
- Anti-reverse connection protection
- 12 V & 3.3 V auxiliary power supply
- VSP speed command potentiometer
- Over temperature and overcurrent protection
- Turnkey version sensor less & sensor FOC control
The REF-Vacuum-C101-2ED reference design is available through regular Infineon distribution partners as well as on Infineons website. The main features of this board are described in this document, whereas the remaining paragraphs provide information to enable the customers to copy, modify and qualify the design for production according to their own specific requirements.
An 18 V, 250 W vacuum motor is used for the default DEMO function, whose maximum speed is 100 kRPM. Please note that motor parameters need to be double-checked in MCEWizard if a different motor is used.

图7. 参考设计REF-Vacuum-C101-2ED框图
REF-Vacuum-C101-2ED is a reference design for 24 V (like 6~7S Li battery) low-voltage motor drive applications.
Main features of SOI half-bridge gate driver 2ED2304S06F include:
• Infineon thin-film SOI technology
• Fully operational to +650 V, floating channel designed for bootstrap operation
• Output source/sink current capability +0.36 A/-0.7 A
• Integrated ultra-fast, low RDS(ON) bootstrap diode
• dV/dt immune ±50 V
• Tolerant to negative transient voltage up to -100 V
• 10 ns typ., 60 ns max. propagation delay matching
• Integrated minimum dead time 75 ns, shoot-through prevention
• Gate drive supply range from 10 V to 20 V, undervoltage lockout for both channels
• 3.3 V, 5 V and 15 V input logic compatible
Main features of iMOTION™ controller IMC101T include:
· Motion control engine as ready-to-use controller solution for sensorless and Hall-sensor motor drives
· Field-oriented control (FOC) for permanent magnet synchronous motor (PMSM/BLDC)
· Optional support for Hall sensors (analog or digital)
· Space vector PWM with sinusoidal commutation and integrated protection features
· Current sensing via single shunt or leg shunt
· Integrated analog comparators for overcurrent protection
· Integrated scripting engine for application flexibility
· 3.3 V or 5.0 V supply voltage options for controller
· Flexible host interface options for speed commands: UART, SPI, PWM or analog signal
· Class B pre-certification (IEC60335) for MCE2.0 firmware
The REF-Vacuum-C101-2ED reference design characteristics include:
• Input voltage 18~30 V DC (6S ~ 7S Li battery)
• Maximum 600 W at 25 A, 24 V DC power input with on-board cooling fan
• Anti-reverse connection protection
• VSP speed command potentiometer
• 3 digital Hall interface
• User UART for script function
• Overcurrent and over temperature protection, fault diagnostic LED output
• Low-noise, single-shunt current sample
• Auxiliary power supply with 12 V, 3.3 V
• PCB is 60 mm × 115 mm (or 60 mm × 63.5 mm if cooling fan is removed), 2 layers, 1 oz. copper
• RoHS compliant
参考设计REF-Vacuum-C101-2ED主要指标: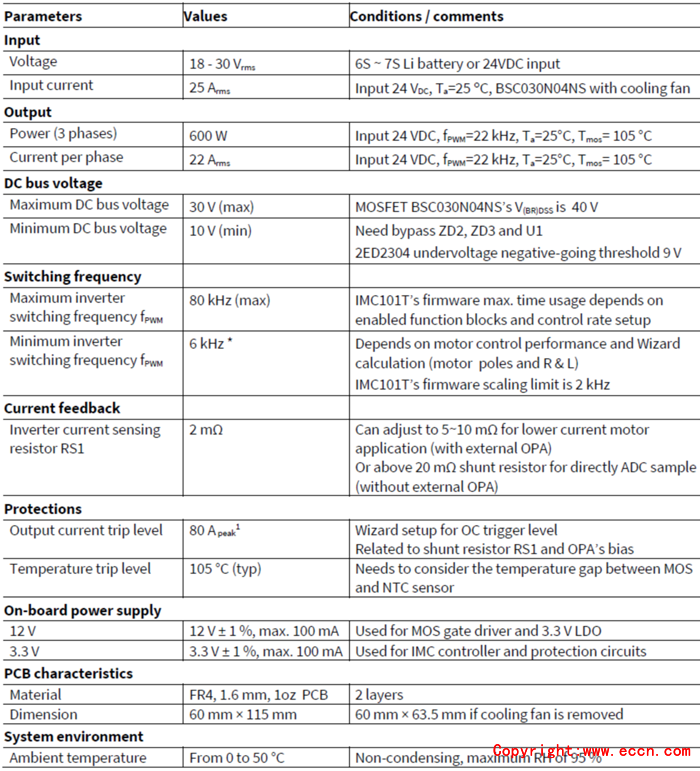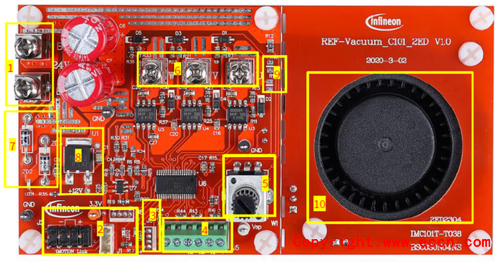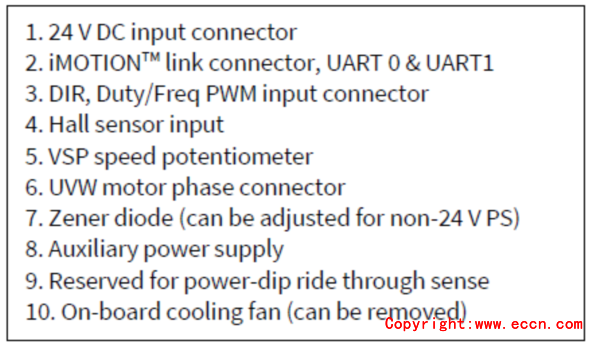 图8. 参考设计REF-Vacuum-C101-2ED外形图和功能分布图(正视)
图9. 参考设计REF-Vacuum-C101-2ED外形图和功能分布图(底视)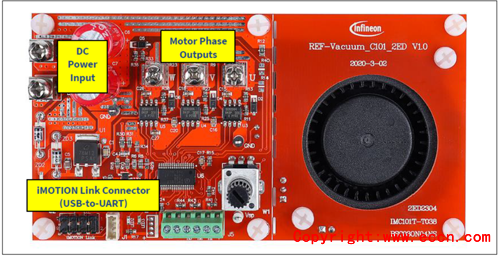 图10. 参考设计REF-Vacuum-C101-2ED系统连接图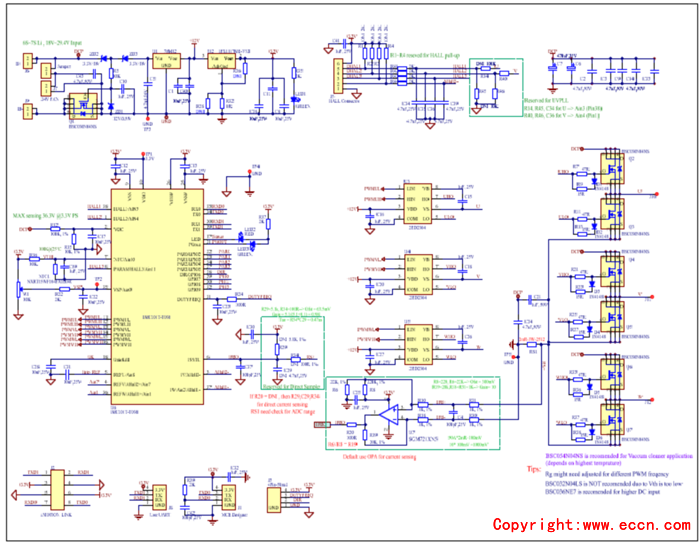 图11. 参考设计REF-Vacuum-C101-2ED电路图
参考设计REF-Vacuum-C101-2ED材料清单: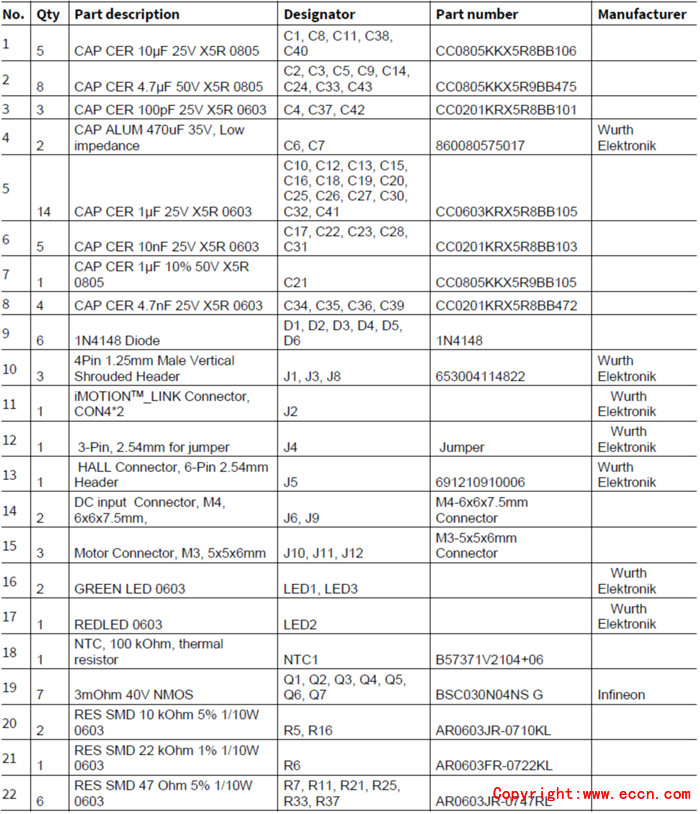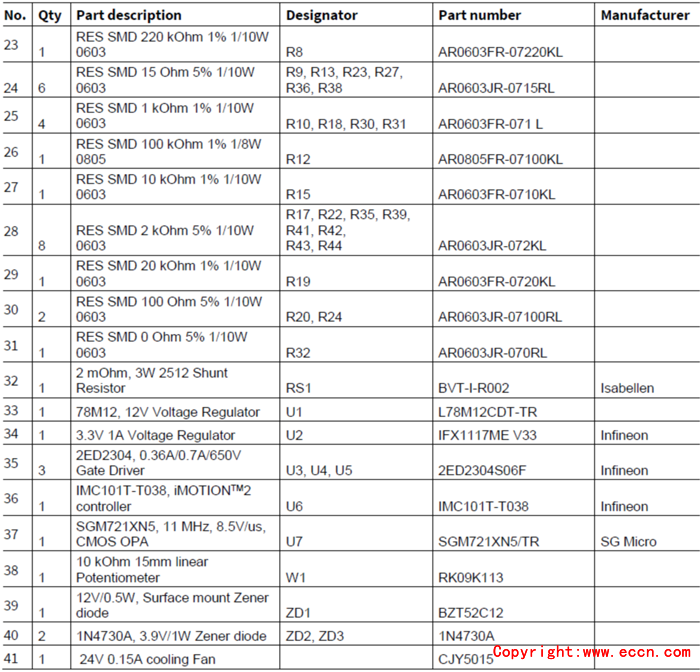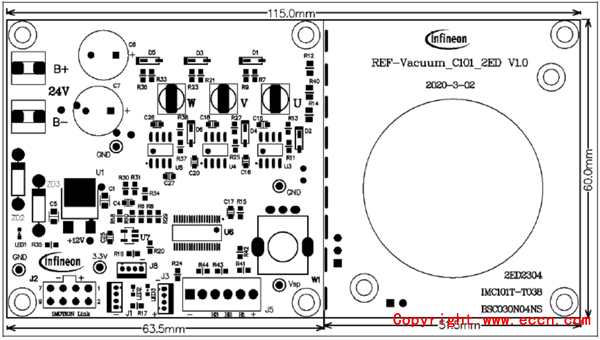 图12. 参考设计REF-Vacuum-C101-2ED PCB装配图(正面)
图13. 参考设计REF-Vacuum-C101-2ED PCB装配图(背面)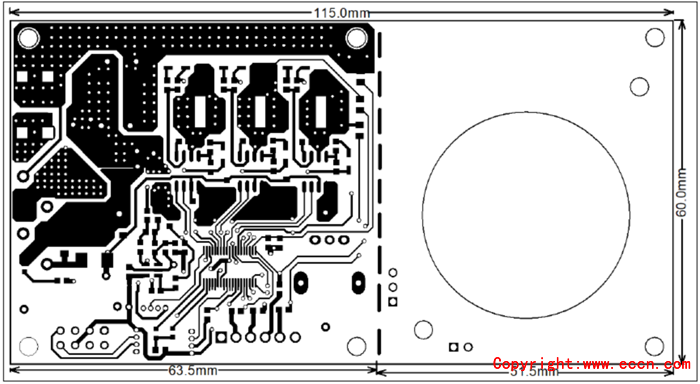 图14. 参考设计REF-Vacuum-C101-2ED PCB走线图(正面)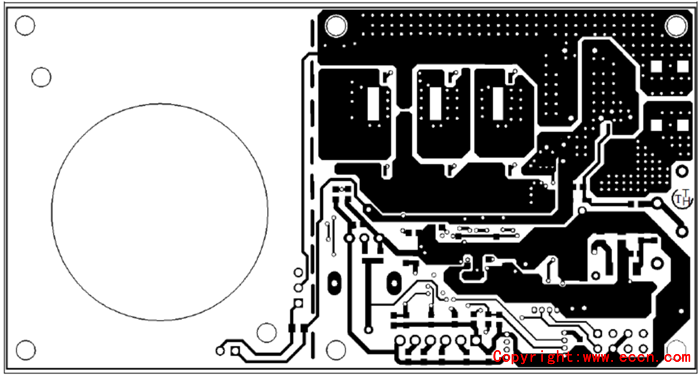 图15. 参考设计REF-Vacuum-C101-2ED PCB走线图(背面)